The spooky season is upon us. In our personal lives, that means horror movie marathons, helping the kids pick out costumes for trick-or-treating and pretending that we all like pumpkin spice. But let's not forget the importance of seasonality in our professional lives. Halloween is, amongst other things, an opportunity to inject a sense of fearsome fun and frightful frivolity into your content marketing.
Seasonality matters. Just look at how that ubiquitous coffee chain managed to turn the addition of cinnamon and nutmeg-flavoured syrup to a latte into a global event every autumn. Or how we've come to anticipate the Christmas ad campaign of a major UK retailer as fervently as a festive blockbuster. 
As we prepare to don our spooky garb, carve up our pumpkins and prepare to enjoy All Hallows' Eve, it's worth taking a moment to consider the ways in which you can add some spooky, playful Halloween spirit to your content marketing.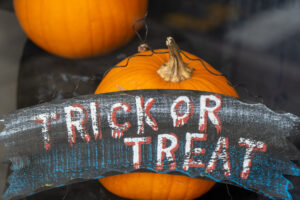 Why seasonal marketing matters
Seasonal blog posts and holiday hashtags are a great way to engage with your target audience. By helping them to get into the spirit of the season (and better yet, offer them useful advice to help them prepare for the frightful festivities), you can create a point of connection between your target audience and your brand
Seasonal content creation can:
Help to keep your brand feeling current and relevant

Create a shared sense of celebration with your target audience

Motivate and inspire your team, encouraging them to exercise their

creative flair

Lend a sense of fun and personality to your business and your brand

Position your website or social pages as useful resources to help your audience make the most of the season

Encourage

social sharing

among your target audience and build brand awareness

Provide opportunities for meaningful interactions with prospects and customers  
With that in mind, let's take a look at some ways to bring some spooky spirit to your content marketing.


Give your logo and banners a spooky makeover
Nobody likes to visit a website that feels neglected or poorly maintained. So have a chat with your design team and find some creepily creative ways to add some Halloween zaniness to your website's design scheme, logo and banners.
Whether it's adding a few tumbling leaves, cobwebs or swooping bats to your logo, a call to action in the shape of a jack o' lantern, or a creepy blood-dripping font, the possibilities are limited only by your imagination.
If you find yourself looking for inspiration, just take a look at the way Google has artfully incorporated spooky seasonal themes into its Doodles in previous years.

Make sure your content is all treat and no trick
As with any seasonal event, Halloween offers an opportunity to create content that is not only themed and fun, but useful and relevant to your target audience. Needless to say, your content can also help to position your products or services in line with the audience's needs for the spooky season. 
For instance, a local security firm may want to share ways in which they can keep their homes safe while still welcoming trick-or-treaters. Likewise, companies that make clothing or accessories for children may want to share costuming ideas or safe route recommendations for parents taking their children out for their first Halloween.
That's not to say that your content necessarily needs to queue up a sales opportunity. Blatantly advertorial content can be a deterrent to prospective customers. However, any content that establishes you as an expert voice and a useful resource can create positive associations and encourage readers to share with their peers on social platforms, expanding your reach and building brand awareness.

Incorporate devilish deals and creepy contests
Whatever your current content marketing strategy, the ultimate goal is to bring value to your brand. And what better way to do that than using it to deliver exclusive deals for your customers and prospects?
Seasonal offers add an element of scarcity marketing to your content, and by using unique single-use promo codes sent with outbound marketing emails, you can create themed deals and offers with a greater sense of exclusivity. 
Contests and giveaways are also a great way to use your content to drive quality engagement. For instance, costume contests are a great way to engage with your following while also creating positive associations with your brand. Giving away seasonally themed products or goodies creates a lasting impression that will remain with the winners long after the season has drawn to a close. 
Whether you encourage your following to submit images or text through social platforms or hold an event in your physical store or premises, exclusive deals and giveaways are a great way for you and your target audience to enjoy the season together and strengthen that all-important relationship. 

Encourage your audience to share  
As well as encouraging your audience to share useful blog posts, video content, infographics and other resources, the Halloween season offers opportunities for a different kind of sharing. 
A great deal is made of brand storytelling, but the beauty of Halloween is that it encourages your target audiences to share their own stories with you and one another. All neatly packaged in a seasonal hashtag and curated through your social media feeds.
Are you a retailer planning on turning your day of Halloween trading into a spooky extravaganza? You may want to encourage your customers to share images of their eerie experiences in your spooky store and share your favourites. Want to see how your customers are getting on with carving their pumpkins? Why not get them to share your successes (and admirable failures) with you on social media?
This form of User Generated Content goes a long way towards building a sense of authenticity in your brand and strengthening your relationships with your customers. It can engender a sense of trust and reciprocity between you and your existing following, while signalling to newcomers that yours is a brand they can trust. It accomplishes many of the same goals as influencer marketing without the incumbent cost.
Above all, Halloween is an opportunity for you and your team to have fun, collaborate and get creative. Hopefully, you'll take some inspiration from the above in doing just that.
Need a helping hand wowing your target audience with seasonal content? We're here all year around to help your brand look its best with our huge range of copywriting services. 
Get in touch with our wonderful team today.